UK Fire Group – The Future
2020 was a year of significant change and disruption. Most of the world went into some form of lockdown, business was put on hold in many sectors and major sporting events that had previously only been cancelled due to war were also postponed. UK Fire Training was not immune to that upheaval but we were quickly able to pivot from a face-to-face delivery model to online training to enable us to keep our customers, their staff and their visitors complaint and safe even in very challenging circumstances.
The year 2020 was also a year of change for UKFT in other ways. A demerger saw us become an integral part of the Martin James Network (MJN), a new, but in some cases a familiar, management team was installed and a strategy for growth, consolidation and with a nod to the digital world was adopted.
To acknowledge all of that change and signal our future direction we have decided to refresh our branding. The first part of the plan was to overhaul the whole look and feel of our brand logo. We had a clear vision of wanting to visually separate ourselves from the fire safety pack by refreshing the brand, hailing a new era of growth and development. We also wanted to embrace the Fearless Futures approach that is a guiding principle for all of the organisations under the MJN umbrella.
The new logo captures UK Fire's forward momentum, its simplicity, and its capabilities.
The brief was to create a logo that could become distinguishable in its own rights and be able to encompass our three service divisions of training, consultancy and digital whilst easily being adaptable to further divisional growth.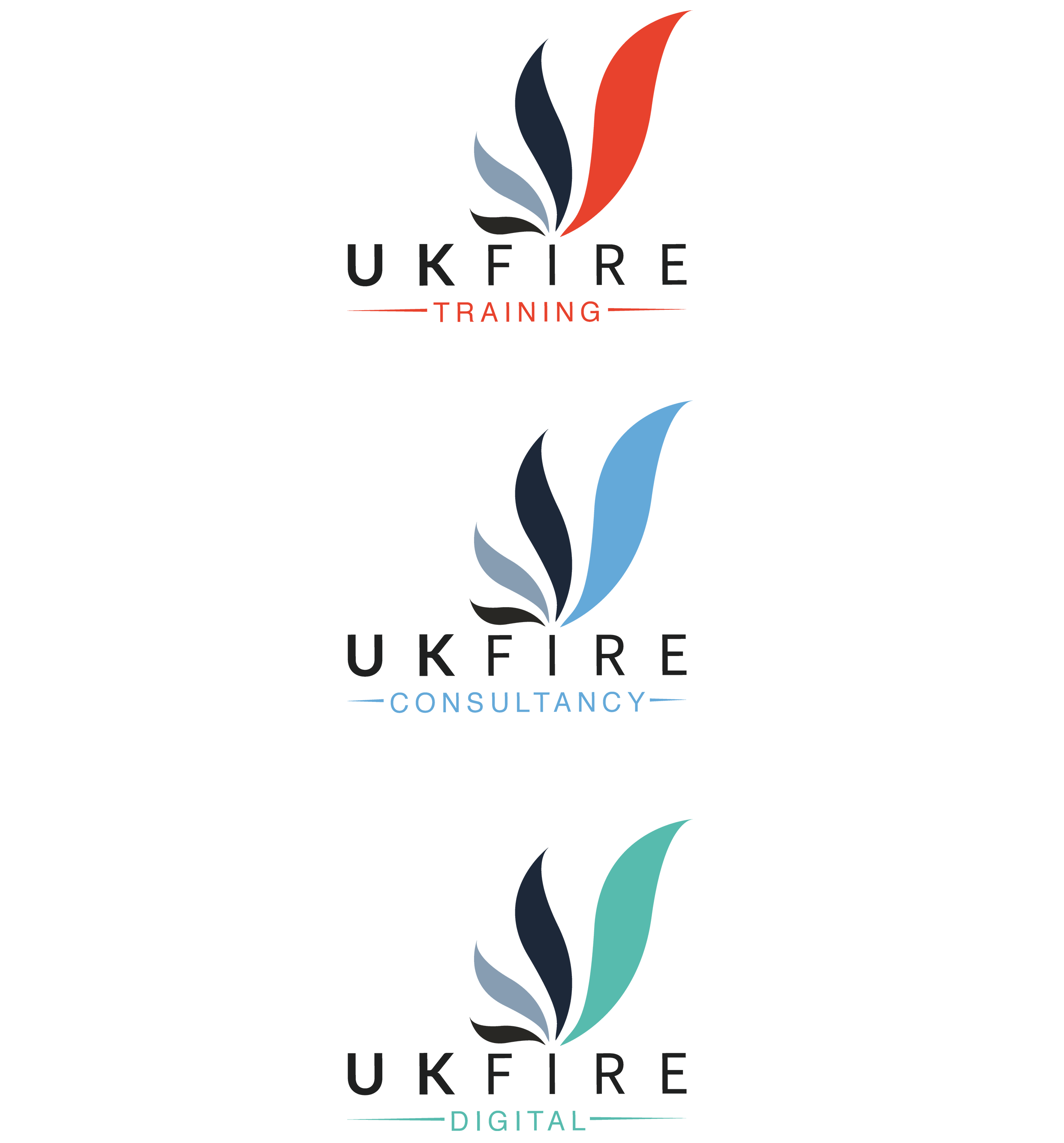 Our individual divisions can now be easily identifiable through the colour change of the largest flame and the name of the divisions under the logo. The colour theme will distinguish  which division of UK Fire Group that clients are dealing with.
The UK Fire Group colours signifies our diversity as a group.
The group colours are a palette of different gradients. This is our trustworthy base that breathes our brand from its core. It is fearlessly confident in its structure and mission
Along with our new logo is a brand new website and a new look and feel to our training presentations. With some exciting new courses, services and innovations on the horizon it really is exciting times for UK Fire Group.